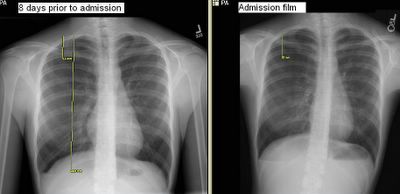 I am not sure if the CxR will show up well. This is a healthy, active, non-smoker 18-y/o woman seen by her pediatrician for mild dyspnea and R chest discomfort. She had the CxR on the left with a spontaneous PTx and he decided to wait and follow it up. She had a repeat CxR 4 days later (not shown) with an unchanged PTx. We were called 4 days later by radiology about the persistent PTx on the film on the right. She is very stable. Her Hx is otherwise really unremarkable except for her cousin having had a recurrent PTx requiring a VATS.
What would you do next?
Would you have waited those eight days just "watching" it?
How do you preferentially handle these pneumothoraces (i.e. Cook cath, Thoravent, chest tubes)?