This is Mike L's case:
40-year-old female presented with abdominal pain in the bilateral lower quadrants with radiation to the back. She had some nausea and vomiting but no hemetemesis or melena. With the pain, she had fatigue, weight loss (2 notches on the belt over 6 months). No other symptoms including pulmonary.
In 2002, the patient underwent an evaluation for bilateral pneumothoraces. Chest tubes were placed, and she had a prolonged hospital course. Her course was complicated by the discovery of a congenital hole in her right hemidiaphragm.and herniation/strangulation of a portion of her stomach into this area. She underwent closing of her diaphragmatic lesion and partial gastrectomy.
In 2005, she presented to an outside institution with a right-sided pleural effusion. She had a thoracentesis, but an etiology was never determined. She did not followup. She reports her last chest x-ray was performed in May of 2005. She is unclear as to what this showed.
PAST MEDICAL HISTORY: Uterine fibroids. PAST SURGICAL HISTORY: 1. Surgical repair of right-sided hiatal hernia.
2. Left herniorrhaphy.
3. Cholecystectomy
4. Appendectomy.
5. Congenital hearing abnormality. ALLERGIES: No known drug allergies.
SOCIAL HISTORY: The patient denies tobacco, alcohol or drug use. She is an aide for a Special Education Class in the Public School System MEDICATIONS ON ADMISSION: None. FAMILY HISTORY: Noncontributory
Exam: VSS, afebrile: Lungs: Decreased breath sounds on the right side from the base to the apex of her right lung. Her left lung was clear to auscultation without wheezes, crackles or rhonchi. There was right-sided decreased percussive resonance and decreased tactile fremitus. Abdomen: Soft, tender in the left lower quadrant without rebound or guarding. No masses appreciated. She has normoactive bowel sounds.
LABORATORY STUDIES ON ADMISSION: Sodium 136, potassium 5.2, chloride 101, bicarbonate 24, BUN 11, creatinine 0.7, calcium 10.5, glucose 129, total protein 7.7, albumin 4.5, alkaline phosphatase 74, AST 30, ALT 10, total bilirubin 1.1, direct bilirubin 0.5, lipase 20, white blood cell count 12.8, hemoglobin 12.5, hematocrit 38.6, platelet count 500, beta-hCG less than 2
CT Images (obtained as the EC physician wanted to ensure the patient did not have a PE):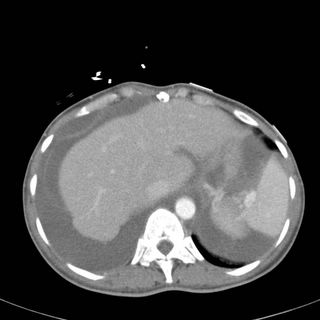 What do you do next? What is your differential diagnosis?
Update: See here for followup to this case (but read the comments below first!)