ABETENS would like help with the following case:
Mrs. A is a 34-year-old African-American female with multiple ER visits for pain and also diagnosed with heart failure. She presented with lower extremity edema, increased abdominal girth, and chest x-ray with some interstitial markings. CT scan of the chest (performed for PE). She has dyspnea on exertion which is not prgressive as per patient. SHe requires home O2. She also has a nonproductive cough.
She has noted splenomegaly and pancytopenia for over 10 years when I contacted him.
She takes no medications. Currently she is not compliant with oxygen.
SOCIAL: smokes age 21 to 28 one PPD. She drank approximately 6 drinks per day from age 21 to 25. She has never used inhalational or IV drugs. I have specifically asked if she used crack cocaine, inhaled heroin, or IV drugs. She denied all the above. She is not married.
BP is 97/65 consistent with the prior evaluation P of 90, R 20, body WT is 137 lb or 62 Kg. ENT: There are no oral wounds or lesions. There is no ENT or supraclavicular adenopathy. Lungs are clear bilaterally. Cardiovascular no rub, murmur, fixed heart sounds. Her belly is benign and nontender. There are lower extremity skin wounds, approximately 1 cm skin wounds, but multiple bilateral lower extremities below the knees. She does have a silver-plaqued wound on her lateral right lower extremity. Extremities: There is some lower extremity edema, trace
similar to my prior evaluation in the hospital.
echocardiogram 5/22/2005 - PA pressure 48. Normal EF. Mild tricuspid regurg and she has a dilated right ventricle. Her bubble study was positive.
Click to enlarge: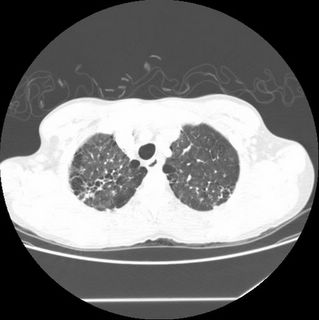 Labs and bronch findings:
WBC 1.9 with 84% Neut. Hct 32 with MCV 74.
SGOT 69 [15-35] SGPT 23 [10-40] TP 8.3 albumin 2.9 BILIRUBIN, TOTAL 1.9 ALKALINE PHOSPHATASE 413
normal creatine and bicarb.
ANA, RF SCREEN Negative
ACE level 205
Bronchoscopy with endobronchial and transbronchial biopsies revealed:
A. Lung, endobronchial biopsy: Active chronic inflammation. See comment.
B. Right lung, middle lobe, transbronchial biopsy: Single poorly formed
granuloma.
Special stains on A B: Grocott stain: Negative for fungus AFB stain: Negative for acid fast bacilli
COMMENT on biopsies:
There is active chronic inflammation in specimen 'A' with squamous metaplasia. A single subtle granuloma is seen in 'B'. The histologic appearance is not characteristic of sarcoid. The histologic findings favor an infectious etiology.
Any thoughts on diagnosis and suggestions for further investigation (especially in light of the interesting TBBX interpretation)?