We were consulted on this previously healthy 39 y/o man. He works full time and for the past 6 weeks has had worsening new onset DOE. At his PCP's office he was hypoxic at rest and was sent to the ER where they first did a CT angio and then a CxR. There was no PE so he was treated with an ABTx and D/C'ed to see us as an outpatient.
CT and CxR at that time: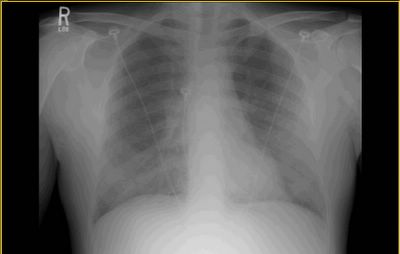 Before his appointment he became more dyspneic and was admitted and we were called.
He is previously healthy. Has a dry cough, no fevers, chills, night sweats. He has some myalgias and arthralgias and dyspnea to minimal exertion.
PMHx: Unremarkable.
SHx: Smoked in the past but quit 2 years ago. He works as a mechanic and they live in a farm. He has outdoor goats and horses and two indoor cockatiels. He seems to remember that briefly before the onset of his dyspnea he opened a new bale of hay which was all moldy on the inside (not kidding).
FHx: Non-contributory.
On exam he was AAOx3 in minimal distress. POx on room air at rest was 90%, dropping with exertion. He had bibasilar crackles and inspiratory squeaks throughout. Heart, abdomen and remainder of exam was normal.
Here is his HRCT.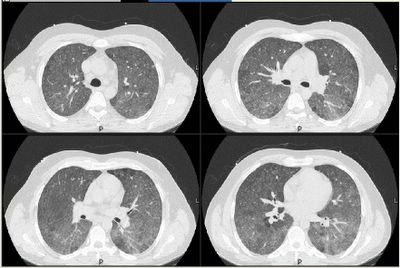 What would you do next? What other info would you want?