This is a new question on a patient I have posted here before (
PCN allergy
) : this is 55 y/o man with stage IIIB bronchogenic Ca, S/P xRt and chemo. He also has mild COPD and had done fairly well with Chemo/radiation. He is ~8 months since the initial Dx and ~3 months since his last chemo.
He presented with fevers, SOB and cough productive of thick purulent sputum and had a LUL infiltrate with sputum Cxs positive for MDR Pseudomonas aeruginosa. Imipenem and APAG had the best MICs though it was also SS to Pip/Tazo (resistant to everything else.
He has received 2 weeks thus far of Imipenem, Amikacin and aerosolized colistin. He is stable but still has copious purulent sputum production and his sputum samples remain positive for Pseudomonas. His CT scan now shows extensive damage to the LUL (previously devitalized by xRt) :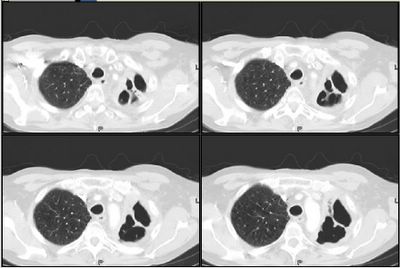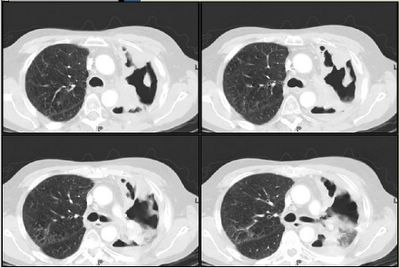 Susceptibility profile has remained the same. Would you add or change anything at this point?