What would you do with the following patient: she's a 60 year old lifelong nonsmoker with quite minimal respiratory symptoms who was referred for nodule picked up accidentally during a hospitalization for small bowel obstruction (due to adhesions from a prior surgery). The interesting thing is that her PFT's showed significant obstruction (FEV1/FVC 59.1 (76%) FVC 1.47 (56)%, FEV1 0.87 (43%) TLC 75% ERV 114% RV 98% RV/TLC 135% predicted. DLCO 76% DL/VA 130%;
her height is 147 cm and weight 41.4 kg
) and even her CXR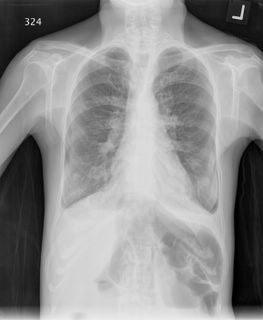 looks like emphysema. Remember also that her symptoms are minimal. So what do you make of this?
The other problem was the original reason for referral. A lung lesion in the lower lobe. Looks pretty nasty and spiculated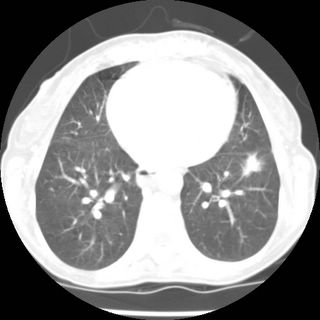 but the PET was negative and there has been no change in size compared to a CT done 6 mos earlier. What would you make of the PET-negative lesion and what would you do about it? (i.e. take it out in a nonsmoker in case it's BAC) or follow it.