This is a quick question.
We were consulted on a 55 y/o man with stage IIIB bronchogenic Ca, S/P xRt and chemo. He also has mild COPD and had done fairly well with Chemo/radiation. He is ~8 months since the initial Dx and ~3 months since his last chemo. He now presents with fevers, SOB and cough productive of thick purulent sputum. CxR as below.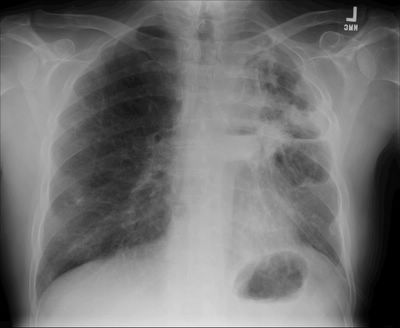 He was admitted and started on Ceftazidime. He reports a PCN allergy.
Sputum Cxs have identified a MDR Pseudomonas aeruginosa. It is only sensitive to Piperacilin and aminoglycosides with intermediate sensitivity to Ceftazidime. I re-questioned him about the PCN allergy: in college he had an IM injection of PCN and had an immediate syncopal episode. No rash, no wheezing, no need for hospitalization.
Do you:
continue Ceftaz and add an AG?
Skin test for PCN? (there is a national shortage of purified PCN skin antigen)
Desensitize for PCN?
Document that this is likely not a real PCN allergy and start him on Pip (we only have Pip/Tazo) on formulary?