61-year-old woman from Jamaica. Two years ago she developed pneumonia, diagnosed on chest xray after presented with f/c/cough. Since that time, she reports as acid
reflux, cold intolerance, e.g. coldness/pain in fingers in response to cold, and thickened skin in her fingers. She also reports some dysphagis and a barium swallow in Jamaica, which was consistent with dysphagia.
PmHx HTN and a thyroid problem.
Exam - clear lungs. O/W unremarkable exam.
PFTs - moderate restriction and DLCO 70%.
ANA weakly positive; RF 30 (<15). SSA/Ro antibody negative; Scl-70 antibody negative.
HRCT from Jamaica shows bibasilar some interlobular thickening, some gnd glass and a bit of honeycoming. Rest of the paranchyma was normal or with very minimal ILD findings.
BAL: micro negative. 90 WBC with 95% macrophages.
Here is the transbronchial biopsy: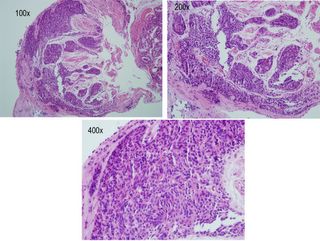 What do you think?