66 y/o woman who had dyspnea starting about 10 years ago. There was a running diagnosis of COPD and CHF until an HRCT in 2004 suggested differently as shown here:
HRCT 2004
An echo at that time showed normal EF with normal-sized RV and RA. BNP 35. Since that time she has had a number of ER visits and 1 or 2 admissions for shortness of breath. Because she never follows up in any clinics, work-up is always ER-limited and treatment is usually based on the old CHF or COPD diagnosis with "pulmonary fibrosis" put into the past medical history, based on above CT. I assume that between visits for SOB exacerbation she is relatively ok, although on the review of systems from one ER note, she "aches all over:" with arthralgias. On SH 1 ½ PPD tobacco. No drugs or alcohol.
On this admission she presented with an hour or so of 9/10 chest pain with dyspnea. Vital signs in ER were 67/46, heart rate of 118, breathing at 22, temperature 36.5.
ABG 7.35/44/43 unknown FiO2. WBC 11. Hct 29. Platelets 200. D-Dimer 1000.
INR 1.15. Cardiac workup was negative.
CXR in the ER
:
ER CXR, no change from baseline of 4 months ago
She was put on heparin to cover for PE (later ruled out by CT). She was admitted to the ICU and a day later was intubated for hypoxia. The intubation was difficult. About ½ a day or so later there was frank blood in the ETT. ENT fiberoptic exam showed a laryngeal laceration consistent with intubation trauma. Heparin was stopped and the bleeding stopped. However, over the next few days her FiO2 requirements increased and she required PEEP 15. Here are her xrays during that time: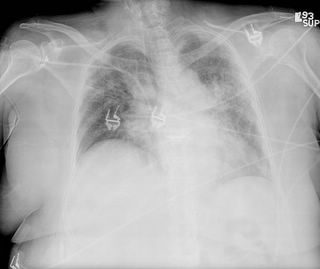 Day 1
Day 2
Day 3
Day 4
Question: What is the cause of the xray findings? What would you do next if you were on rounds? Or you can ask me about any other data you might need.