This is a 58 y/o man transferred from an outside hospital with significant dyspnea and orthopnea. In mid-April he had a similar presentation with significant dyspnea and was found to have an empyema. He was treated with chest tube thoracostomy and ABTx, had marked improvement and was D/Ced home on levofloxacin. Currently he has no fevers/chills/night sweats and has only a dry cough.
PMHx: no previous lung Dz. +CAD, S/P PTCA.
SHx: never smoked. Retired from management position. Current hobby is to work with rare woods and make pens. He always wears a mask. No use of Western red cedar.
On exam, AAOx3. Good dentition. Decreased BS R base with crackles, egophony and dullness. S1/S2 RRR. Benign abdomen.
CT scan is seen below.
Besides comments on management and next step, what is the practice at your institutions RE: infusing thrombolytics via CT for empyema?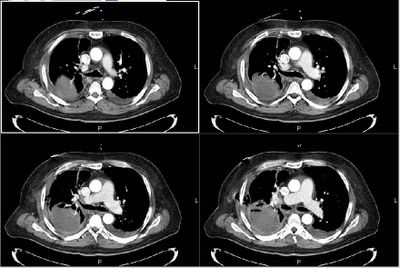 Same level (lung windows):